Positive Change Through Sustainable Design
Our approach to sustainability goes beyond the singular solutions of selecting local materials and evaluates each site from a systematic perspective. A truly sustainable outcome necessitates an understanding that every aspect of a design is a part of a greater system. Elements including water conservation, water quality, materials selection, soil and vegetation, human health and well-being, and energy consumption are continually viewed through a sustainable lens. This philosophy allows us to create design interventions that are deeply grounded in ecological, economic, and social context.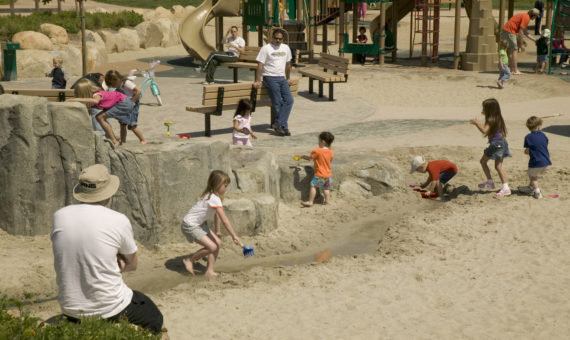 Featured Project
Cottonwood Creek Park is an eight acre neighborhood park located in Encinitas, California.
SITES (The Sustainable Sites Initiative™)
Stone Brewing Co. World Bistro & Gardens in Escondido, CA, achieved SITES certification, one of only 30 projects worldwide to meet the high standards set by this new LEED-like certification system for projects with or without a building. The majority of the gardens at Stone Brewing are located within a detention basin that captures and treats the stormwater generated by the surrounding commercial park. This basin provides water quality improvements for the runoff through bioremediation and phytoremediation while serving as a beautiful site amenity and gathering space during the dry season. The entire site utilizes a series of interconnected low-impact-development features, high-efficiency irrigation, edible landscapes, reclaimed construction materials, and organic composting to create a truly sustainable setting that has become an international destination for craft beer aficionados.
VIEW PROJECT
"The landscaping is the finest I have seen on a county project. The area was completely restored and helps to carry out the center's educational mission. I am particularly impressed with the green roof planted with native species. Green buildings and water-saving natural habitat are environmentally-friendly. I have always felt that if you don't build it right today, you take just that little bit away from tomorrow."
– Former San Diego County Supervisor, Pam Slater-Price
San Elijo Lagoon Visitor Center Project